(iii)

What Died on that Day?

Huxley

Man of Science

Thought

Lewis

Man of Faith

Feeling

Kennedy

Man of Strength

Will

Just as Huxley and Lewis are symbolic of a something greater than themselves, so too is Kennedy. Where Huxley and Lewis correspond well to the heads of the serpents, JFK is well suited to the central shaft, upon which can be superimposed the symbol of the Sword.

The Sword symbolizes Will. It is a symbol of masculine power, an extension of virility, a strong focus of inner energy directed outwards onto the world stage.

It is the symbol of kings. An intact Sword represents the spiritual integrity of the King – an inner core in complete alignment.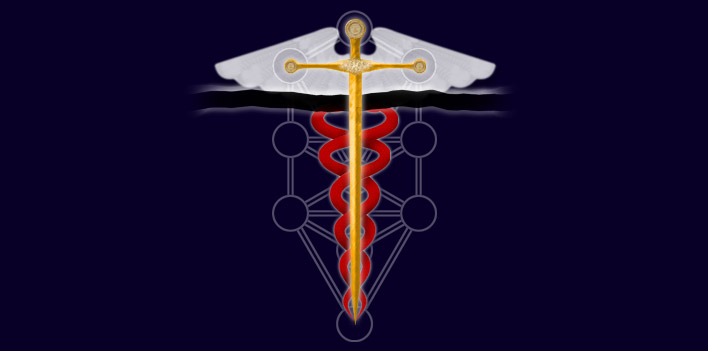 Two weeks after having made the symbolic connection between the three men (Huxley and Lewis representing the snakes, Kennedy the Sword) I am chatting to a friend with an interest in astrology. I bring up the coincidence of Huxley, Lewis and Kennedy dying on the same day, of which my astrologer friend hadn't been aware. She says, "I wonder what died on that day."
The phrase sticks: what died on that day? If all three men were symbolic for something else, is there a deeper symbolic meaning in their passing?
Just a few days later, while reading a book called Iron John, I come to a section entitled The King in His Three Realms, in which a triad of archetypes is explored: the Earthly King, the Sacred King and the Inner King.
The Huxley-Lewis-Kennedy triad immediately springs to mind.
Huxley, with his rationalist approach and connection to Darwin, is ideally suited to the Earthly King. Lewis, as a Christian, could be affiliated with the Sacred King. Which leaves Kennedy as the Inner King.
Huxley
Man of Science
Thought
Earthly King
Lewis
Man of Faith
Feeling
Sacred King
Kennedy
Man of Strength
Will
Inner King
The hunch is rewarded just five pages on when, remarkably, JFK gets a mention - not only in connection with the Inner King but also with the symbolism of the Sword. The relevant paragraph feeds into the evolving symbolism in three key ways.
Kennedy associated with the inner King
Connection between Kennedy and the Sword (Excalibur)
Insight into the impact of Kennedy's death
Many men of the generation now forty-five or so projected their undeveloped inner King on Jack Kennedy1, who spoke openly of Camelot2, and on Martin Luther King, and on Bobby Kennedy. When forces opposed to any spiritual kingship killed the Kennedys and King in mid-career, it was a catastrophe for men of that generation. Some men have told me in tears that they lost something then, and have never regained it; they have never gotten back on track.3
Robert Bly, Iron John
The paragraph provides an answer to the question of "what died on that day." On November 22, 1963, a symbolic sense of kingship died.